Industrial Frozen Meat Grinder DKM 280
Industrial Frozen Meat Grinder DKM 280
For Frozen and Fresh Meat
---
It is used in the production of sausage, salami, sausage and meat processing, especially in the process of mincing the shocked meat at -15C °, -25 C °. The meat grinder provides convenience to the users in shooting frozen meat and fresh meat with its double speed motor. The first cycle is for frozen meat and the second is for fresh meat.
* Entirely manufactured AISI 304 stainless chrome body, head, bracelet, auger
* It separates bones of chicken, turkey and fish thanks to the custom designed separator system.
* Equipped with the mirror and blade system used in frozen meat mincing machines at EU standards.
* Optional sinew separator system.
* Equipped with a powerful engine and gearbox system.
* It has a double spiral for fresh and frozen meat.
* 3-level speed control
* It has a 200 liter feeding chamber.
* It is produced completely in accordance with CE directives.
* With Lift (Optional)
* 200 lt meat trolley (Optional)
1 Piece front cutter
2 pieces Double-sided Knives

1 piece 13 mm. plate

1 piece 3.5 mm. plate

1 Piece Single-sided Knife

Machines can work with just 1 plate and 1 blade.

Plates are made in İtaly (Salvador) and stainless, blades are stainless Steel and made in Germany (L&W).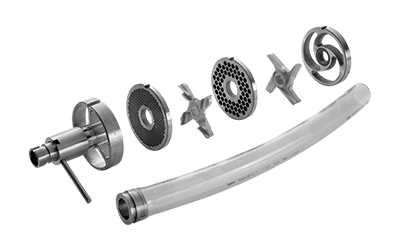 SINEW SEPARATOR SYSTEM
Optionally, PKM-32 and PKM-42 models can be manufactured with sinew separation system. Thanks to the nerve separation nut, the sinew ratio in the meat can be adjusted.
---
SPECIAL SOLUTIONS
Machinery can be manufactured with stand, big hopper or specifically for your needs.
---
| | |
| --- | --- |
| Capacity | 4000-5000 Kg / Hr |
| Motor Power | 55 Kw |
| Voltage | 400 V |
| Plate Diameter | 280 mm |
| Sinew Separator | Optional |
| Weight | 2880 Kg |
| Dimensions (L x W x H) | 2208 x 2344 x 2860 mm |